February 5, 2020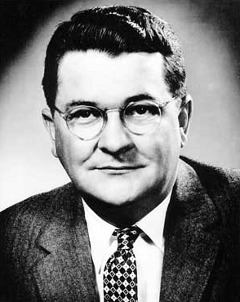 The Governor Who Became a Cab Driver
William C. Marland is one of the most interesting stories in West Virginia politics. After serving as a Navy lieutenant in the Pacific in WWII, he became Attorney General and in 1952 became West Virginia's 24th governor. Governor Marland struggled with alcohol, even being accused by political opponents of inappropriately drinking during the day. He left office to run for a special Senate election and lost. His political career over, struggling with his alcoholism, he left public life and eventually moved to the Chicago area determined to overcome his drinking problem. He gave up his drinking and found a job as a taxi driver in downtown Chicago. A reporter recognized him and wrote a story about the former governor now driving a cab. Before the story broke, he held a press conference to speak candidly about his life. He shared his reason for driving a taxi was to hold in check his ambition that may have help lead to his drinking.
Governor Marland reached the pinnacle of West Virginia politics. Yet it seems he was not truly happy or content. After a great struggle, he seemed to find greater happiness and satisfaction in life as a taxi driver than as Governor of West Virginia. As Jesus continues proclaiming the qualities found in those who follow Him, He proclaims that it is those who desire His righteousness who will find true happiness, contentment, and satisfaction in life.
This is the topic of this week's Bible study at the West Virginia statehouse, "Hungering for Righteousness in the Capitol". Please pray that leaders, legislators, lobbyists, and staff might find the true satisfaction that only comes through knowing and following Christ.
Tim Pauley
Capitol Commission West Virginia